Leadership, Influence, Negotiation, & Improvisation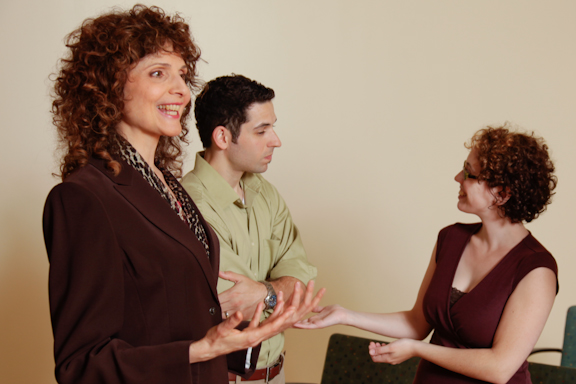 Have you ever tried to exercise your best executive instincts, only to find yourself freezing up, hesitating, second guessing your choices, or feeling thwarted by unanticipated pushback? In order to employ leadership models and negotiation tools during the day-to-day demands of real life situations, we need to be ready to respond, adapt, and extemporize.
Great leaders and negotiators improvise. When you feel confident thinking and speaking on your feet, you can be more persuasive and effective. Skillfulness in navigating the unexpected is essential for success as a leader. Masterful improvisers and exceptional leaders share many core qualities: Flexibility, vision, keen listening, creativity, generosity, and emotional intelligence. They each bring out the best in others, build strong team relationships, and take risks while seeing the big picture. The key to influence is your ability to improvise with specific strategies according to what is happening in the moment. Improvisation is the art of spontaneous influence and the science of making things happen. As a leader/improviser, you need to be adept at playing many roles. Everyone has a fall back leadership persona that might not reflect one's greatest potential. This experiential training will help you identify your typical influence style and discover alternatives when it doesn't work. You'll also learn and practice some specific improvisation skills that will help you gain greater dexterity as a leader and negotiator.
Daena Giardella has over 25 years of experience in her dual backgrounds in the performing arts and in organizational development and coaching. She combines these backgrounds to design innovative training programs and educational performances that target leadership, influence, team building, creativity and The Art of Change ©. Her specialty is the translation and application of improvisation skills for leaders, negotiators, and other professionals. She has worked with many prominent organizations and world-class companies as a consultant, media/presentation coach, and executive leadership coach. Daena is a professional actor, director, and member of the American Federation of Radio and Television Artists, whose many original one-woman theater performances have received wide critical acclaim throughout the United States and internationally. She is co-author (with Wren Ross) of the book, Changing Patterns: Discovering the Fabric of Your Creativity.
Return to Consulting Home Page for More Info on Daena's Other Training Programs and Presentations