Constructively Navigating Difficult Conversations
A Workshop with Daena Giardella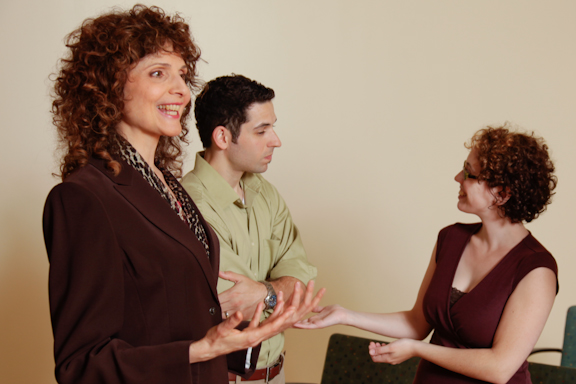 Have you ever felt stuck, confused, or anxious in a conversation that suddenly takes a difficult turn into tension or conflict?
Do you sometimes feel defensive, impatient, reactive, or uncomfortable during discussions when opposing views are expressed?
Have you ever avoided a professional conversation with someone because you were afraid it might end up in a disagreement that you would not be able to manage successfully?
Do you feel that your effectiveness as a leader or influencer is sometimes limited by your responses to conflict?
The ability to effectively respond, influence, and negotiate during difficult conversations is vital for all leaders. This capability is essential for our leadership tool kit since challenging conversations are inevitable in professional settings. The stress and pressure of everyday organizational interactions can often lead to unexpected tension or friction as each stakeholder expresses her/his point of view. Our ability to be adept in the moment and skillfully navigate difficult or crucial conversations will directly affect team cohesiveness, communication, trust, performance, and results. Having the confidence and skillfulness to productively engage and frame conflicts helps us problem-solve and innovate collaboratively with others.
This workshop will include:
What makes some conversations "difficult" or challenging for each of us
What are our "default" habit responses & roles during conflict and disagreement
What new capabilities do we need to develop to help us constructively frame conflict
How to cultivate High Stakes Listening in challenging interactions
Creating psychological safety in teams & developing emotional self-regulation for our reflexive reactions
The invisible "backstory" and "structure" of difficult conversations
Specific skills for effectively responding and influencing others during difficult conversations
Participants will have an opportunity to learn and practice specific techniques and tools for navigating difficult conversations, using improvised real-life professional scenarios, role plays, and cases. This is a highly experiential learning lab workshop that will include hands-on skills practice as well as conceptual frameworks.
Daena Giardella is an Organizational Leadership, Team, and Communication Consultant and Executive Coach. She has worked with leaders and employees in numerous companies for over 30 years. She is also a Senior Lecturer at MIT Sloan and a Faculty Affiliate of the MIT Leadership Center where she works as an Executive Coach with MIT Sloan Fellows, Executive MBA and 2-yr MBA students.
Return to Consulting Home Page for More Info on Daena's Other Training Programs and Presentations