Are you ready to play?

Do you want to feel more comfortable thinking and speaking on your feet?

Get into the moment with confidence and passion!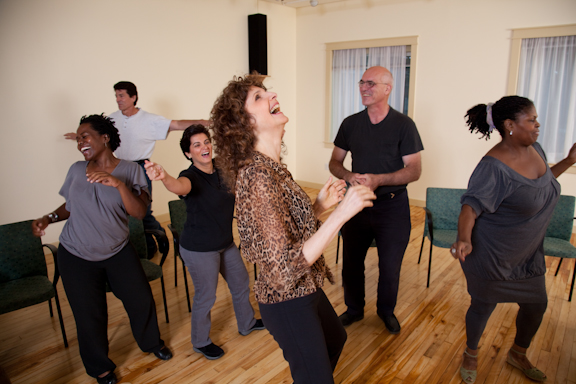 Daena's Workshops & Coaching Help Develop Your Ability To Speak and Act with Dynamic Presence:
Strengthen your reflexes for responding spontaneously with ease and authenticity .


Discover the freedom of trusting your creative impulses in a safe and supportive atmosphere that encourages risk-taking, experimentation, and honesty.


Learn the art of making "elegant transitions" as you deal with unexpected circumstances on and off stage with finesse and flexibility.


Practice the skills of acting improvisation as you learn how to craft spontaneous scenes, believable characters, dialogue, and monologues -- learn how to build on improvisational invitations instead of blocking them.


Experiment with effective tools for dealing with the "inner critic" with coaching to overcome inhibitions & self-consciousness.


Explore both humorous and dramatic material.


Learn how to develop personal/original material and turn them into theatre or writing.


Use your improvisation skills in everyday life.


Give yourself an opportunity to have fun and play!

Classes include participants from all levels of experience. Beginners welcome!

Daena has pioneered a popular, innovative, and movement based approach for teaching improvisational acting to people from all walks of life. Her insightful coaching, mastered over 25 years of practice, helps students become versatile improvisers and actors.



---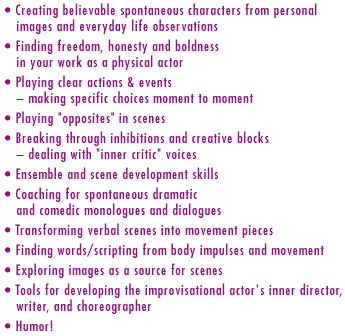 ---
Improvisation is an art that requires and develops in us the same qualities and skills that are most needed for personal freedom in everyday life. It is a continuous search for truth which can create in us an attitude of trust for each moment. Choices. Improvisation is about making choices and daring to give them your full commitment even before you know why or where it will lead you. The challenge is to embrace and believe in the present moment as if it were the first, the last, the only -- to find the "yes" instead of the "no" when faced with the unexpected -- to act, to choose, to listen with passionate openness, while risking being seen in the act of becoming...

Most of us lose touch with our spontaneous selves. The expression of our creative impulses, our free body movement, our true feelings, and our wildest imaginings often involves a deep process of recovery. Daena's classes and workshops provide a safe and supportive setting for you to learn to trust your own impulses and to expand the range of your authentic expression. Since the secret of spontaneity is the release of tension, shame, and fear, some of the work deals with these issues directly through theatre exercises that free our innate artistry. Focus is given to transforming the "inner critic" into a source of positive energy and creativity. Acting and movement techniques will be offered to help you learn how to create believable spontaneous characters as well as learn what it means to play clear actions and make specific choices in improvisation scenes.

You will also be encouraged to trust your natural writing and directing instincts as you practice the art of shaping and developing improvisational scenes from the inside. Skills for transforming verbal scenes into movement pieces, finding words through body impulses, and developing images as a source for scenes will be given emphasis. Many exercises are designed to help people find fuller access to their passion, to take risks, and to listen and receive others with generosity. The training is designed for people from all levels of experience, including beginners. You are assured of a non-judgmental environment with plenty of humor!
---
Daena Giardella has pioneered a unique style of improvisational theatre performance that incorporates a kaleidoscopic cast of dramatic characters, movement, music, and humor. She has gathered wide critical acclaim for her original solo thatre pieces in the US and abroad. For over twenty years she has been developing new techniques for teaching improvisation. She also directs actors, dancers and writers in original performance pieces, helping them transform their personal stories and images into theatre, fiction, and film. In addition, Daena's voice can be heard in numerous TV and radio commercials and corporate media. She was formerly on the faculties of Emerson College and Boston Conservatory.


.
Your Creative Process
Weekly evening classes with Daena Giardella
Your Creative Process is a laboratory workshop for each participant to identify his/her particular cycles/stages of creativity while working on specific projects or goals from week-to-week in class. This workshop series will help you develop a dynamic relationship with your creative process. Using spontaneous writing, improvisational acting, storytelling, movement, vocal exercises, and music, you'll explore your unique creative process and energize your self-expression.
Our focus will be on each person's process of creation. Overcoming blocks, getting out of ruts and stuck places, inviting new inspiration, learning how to deal with the inner critic, and recognizing familiar, counterproductive habits will be part of our work together as we support each person to find creative freedom and satisfaction.
By understanding the psychological stages of the creative process, learning to define your unique work cycles, and making peace with your "inner committee," you'll learn to identify and change the patterns that inhibit your sense of fulfillment, so you can finally allow creativity to take center stage in your life. You'll also discover how your creative process can teach you a lot about yourself.
Daena offers many techniques for grappling with some of the universal issues that arise during the act of creation. She invites you to explore your relationship to some common themes including: Trouble with Beginnings or Endings; Maintaining focus in the middle; Feeling overwhelmed or distracted; Making mistakes; Comparisons with others; Resistance; Dealing with obstacles; Procrastination; Finding the time to be creative in the midst of busy schedules; Setting realistic goals.
This workshop format is aimed at people who are looking to jump-start, re-discover, support, or simply explore their creative passion as well as those who are currently working on a specific project (it might be a monologue, non-fiction writing, screenplay, presentation, painting, story, dance, stand-up comedy, poem, novel, etc.). Our format invites participants to explore from whatever stage they happen to be moving through in the cycles of creation. Open exploration as well as focus on particular goals are encouraged. Each person has the opportunity to create the kind of experience that suits his/her current creative needs. Be assured of a safe, supportive atmosphere that encourages trust, risk-taking, and plenty of humor!
This workshop is an outgrowth of Daena's new book about the creative process (co-authored with Wren Ross) called Changing Patterns: Discovering the Fabric of Your Creativity, available now! For more info go to http://www.CreativityInLife.com

---
"Daena's work is not only powerful, entertaining and provocative, it's filled with wisdom and insight. Through your laughter and tears, you'll walk away with a deeper understanding of yourself and the world we all share together. Give yourself the gift of Daena Giardella!"
-Cheryl Richardson, Author of "Stand Up for Your Life", "Life Makeovers", "Take Time for Your Life"

"Daena Giardella is brilliant. I found her work to be extremely resonant, relevant, moving and funny. She gets to the essence of what is important. I wholeheartedly recommend her performances and classes to everyone."
-Natalie Goldberg, Author of "Writing Down the Bones" and "Wild Mind"


For more information call 617.924.9596 or by email: daena@daenagiardella.com.
© 2000 Daena Giardella

Home | About | CD | Performances | Teaching | Voiceover | Consulting | Contact