In a weekly class there is often a feeling that the work is ending just as we are getting into our flow of impulses. The weekend retreat format provides an expansive container where images, characters, and scenes can evolve from session to session. The result is a deepening of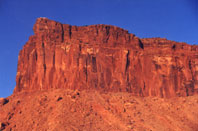 our improvisational practice. A movement based approach is used to feel and express vocal and physical impulses. Great emphasis is placed on creating a safe,non-judgmental atmosphere that supports the challenge of taking risks. The presence of nature provides a special meeting place for participants to collaborate together in a process of creativity and transformation
Pictured here on this page are several photographs from ancient theatre ruins in Morgentina, Sicily as well as temple sites in Malta where early ritual performance and events took place.
As a novice writer and consultant, I came to the retreat wanting to explore the themes of freedom and aliveness that were emerging through a new writing project. Naturally, I was a bit self-conscious about expressing myself in front of others. But I was committed at a deeper level to being more open and spontaneous, which meant learning to overcome the subtle layers of fear and resistance that were still holding me back from a more passionate engagement with life
Improv theater seemed like just the right opportunity. Daena's use of body awareness and movement, along with exquisite direction and profound insight into what is happening under the surface, really brought a sense of magic into the workshop. Our performances captured the broad spectrum of human experience - from scenes that were strangely and even terribly familiar to some that were wildly new and provocative. It wasn't all easy, of course.
But Daena helped us to use the most challenging moments to go deeper into the work through our individual performances and in our group process. Each of us was encouraged to approach those moments with a sense of openness, wonder, and reverence which eventually allowed us to be seen, and see ourselves, in a more gentle and appreciative way.
From the very beginning, Daena gave me an opportunity to see beyond my own reflection and to relax into the unknown, where I could begin to taste the greatest Mystery of all. I'm not sure that I can express my full appreciation for the workshop: the beautiful high desert setting, delicious food, extraordinary people, and the work itself. Daena provided so many opportunities to understand my character's point of view and to go beyond my normal inhibitions. At this point, words fail me. To put it simply, Daena is a true master of her craft, and provides a very special experience for anybody who is ready to say 'Yes!'.
Michael
Santa Fe, NM
This Theatre Retreat provided a first time unique opportunity for me to enter into the magic of spontaneous self expression. I discovered internal places in the very gratifying experience of moment to moment character development, movement and many other creative vehicles. Daena's sensitive, intuitive, intelligent and specific directions and suggestions ( very individually applied ) supported me throughold blocks and fears, as I reclaimed disowned parts of myself in the creative process. Long term performance anxiety dissipated as the workshop progressed and as I relaxed into the "being" of the characters in the moment.
The generous camaraderie of fellow participants and their supportive attitudes during the experiences and in the feedback afterwards was welcoming and reassuring . Daena sets the tone with clear boundaries for an extraordinarily safe container. Every event is used creatively and deftly woven into the 5 day experience. I had more fun and belly laughs then I can remember and the whole range of human emotion and experience that I witnessed and shared made this retreat authentic. I consider my decision to participate a priceless gift to myself.
Herb Cherry, Retired Psychiatrist
Daena's improvisation retreats are the most satisfying and fulfilling theatrical experiences of my life! Here, I get to be the actor and thewitness to stories; to move in and be moved by the sacred realm of character and stories. I am stirred to new levels of awareness. I learn to see, feel, and participate...with greater spontaneity, fluidity, responsiveness, and depth. My life feels quickened and opened to the sacred mystery that weaves within and without me in a web of events, connections, revelations and messages. Daena creates a sacred laboratory in her workshops where all facets of human experience can be explored deeply. This work never ceases to surprise me, to fill me with a sense of awe, wonder, tenderness, meaning and joy.
Ellie Coolidge-Berhrstock, Artist, Writer, Therapist
I'm am filled with awe, respect, and gratitude for the generosity with which you offer your wisdom, your humor, your insight, and your support. You create an environment safe enough to explore the parts of ourselves which we might not have courage to confront our selves, and to use the amazing things that we find there as the raw materials for authentic and exciting scene work.
Having worked in education, I am aware of the challenges of a class where students are at widely divergent levels of experience. Your class manages to move everyone into the place where they are able to learn and grow (Piaget's "zone of proximal ability"). Because each participant is free to work at his or her own level, and explore whatever edges are relevant, each interaction is unique. I find that I learn different things about myself and my theater work as I work with others who are exploring other areas.
I honestly feel that the retreat in New Mexico is the most significant event of my adulthood. It has been a little over two weeks, and it continues to live and grow inside of me. The connections made between all of us are nothing short of sacred. I am already counting the days till next year's retreat (you ARE doing one next year, aren't you?), and several of us are making plans to continue working together and exploring the things that we started looking at when we were at Synergia.
Audiencing in your class is wonderful. It's some of the best theater to see. There's always room for people to throw something interesting into the mix, whether it's a song, a spontaneous dance, a disembodied voice, or the latest news from Washington. Everything seems to go into this wonderful creative stew. As an added bonus, because everything contributes, any ingredient is a benefit. No matter what one adds, one feels as though it's an important contribution.
I find myself using things I learn in your class (saying yes to whatever is offered, making things important, letting things evolve) all the time in "real life." My interactions at work, with my friends, with my lover, with my mother, have become richer and less combative as I learn to adapt the techniques from your class to the world beyond it.
Jenny Gutbezahl, Researcher
"I am so thankful that you have been a part, and such a critical part, of my journey... I have been facilitating a week long workshop with 30 public school teachers and 16 community arts groups creating interdisciplinary teaching plans using community arts resources in the schools. While it is exciting, it is also a challenging learning process for everyone as this has never been done before here. When the groups had conflicts or individuals became particularly demanding, I remembered the great container you were able to create for us all & your presence to the individual and collective stories and energies at any given moment. Just remembering your abilities inspired me to trust in the process and stay tuned to the moment. I was equally inspired by your comments on how important creating this safe community container is to human development and creativity. Thank you for validating my own beliefs about the creative process, arts, community and human development." Jane Gilbert, Executive Director,
Arts for Learning/Miami
When people who don't know your work (and no one I know knows anything about theatre) ask me about the retreat all I can think to say was that it was wonderful and INTENSE. I don't know how it could have been better. To have the opportunity to enter such a realm of creativity, beauty and expansion was both a blessing and great fun. I loved being out in the moonlight and all the dancing. I find myself thinking about various scenes and each time seeing new levels of meaning. You don't miss anything! Yours is a wonderful recipe for fusing the process of the group with each individuals to weave something both profoundly personal and profoundly universal. I learned as much about life as I did about improvisation - perhaps that is the point. I was not looking for a personal growth retreat yet I "grew" miles. In the middle of all that was going on during our group blow-up, you were able to respectfully shine a light on my edge and then later draw upon that in the most creative, loving and on-the-mark manner to help me take up more space. This week, I've been tempted to leap through the halls of my law firm, twirl and giggle. My mind and spirit feel much freer as a result of the retreat. To find art in both pain and joy is a rare gift. Thank you Daena.
Barbara Marlowe, Director Community Service
What an incredible experience it was to be with you in the desert, on sacred land. What an incredible sense of caring, sharing and trust we built together. I'm truly amazed at our sharing and risk taking. And at all our wonderful creativity and spontaneity.
Shoshana Simons
Training Director, Reach Out to Schools