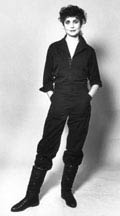 ACTRESS DAENA GIARDELLA RETURNS IN BARE ESSENTIALS AFTER SOLD OUT RUN!!! Featuring musician Alizon Lissance.
Actress, comedian, and dancer DAENA GIARDELLA "explodes on the stage ... with powerful physicality and impeccable comic timing" (Beverly Creasey, Boston Citizen Journal) in her magical one-woman tour-de force, "BARE ESSENTIALS", a hilarious and provocative look at the outrageous challenge of being human.
Back by popular demand after sell-out performances in April, "BARE ESSENTIALS" soars with the fullness of Giardella's vision... she ranges from humor to pathos and turns a simple newspaper, reading into a battle with the brutalities of modern life,". says Jules Becker of the New England Entertainment Digest. "An enormously talented performer/improviser with a dancer's agility and a blues belter's larynx ... her characters have heft and the advantage of surprise," says Skip Ascheim in the Boston Phoenix. "it is an understatement to say that Giardella is excellent... the audience is witnessing true art ... great drama," exclaims J.S. Hall in Bay Windows. Beverly Creasey in the Boston Citizen Journal says that "Giardella... inhabits every inch of the stage like a hologram: inside out, upside down, right side up."


In a tradition of great storytellers, actors and shamans, Giardella creates a rich world of characters, shifting seamlessly from one scene to another to weave her spell. In "BARE ESSENTIALS" we follow the life of temp secretary Rita Callibrani, a self- described "recovering serial monogamist" who is trying to figure out how to live alone — or at the very least, spend a weekend at home without calling any old lovers. It seems that Rita has just spent the last five years separating from an,ex-lover with whom she had a nine month relationship. "Never under any circumstances should anyone spend one last night with a former lover in order to have one of those "closure-processing rituals". They're deadly. A person could die from too much processing." Giardella thrils audiences with an electrifying gallery of characters who transform unpredictably as they reflect the many faces of being human. One moment she's Rita arguing with her inner child; the next she's Rita's traditional Italian mother or her ex-husband trying to wiggle out of using condoms. In another instant we meet Bobby an inner city teenager who is scared of the gun he feels he should carry. Suddenly, emerging from the "portal of her moment," there is Franny, Rita's best friend who has been diagnosed with a terminal illness. Rita even

fuses with characters on the news —in the April production Tonya Harding and Nancy Kerrigan skated into Rita's psychodrama; this fall O.J. Simpson is sure to surface. Through it all Giardella's characters search for truth, life's bare essentials, and a home within themselves.
One minute wildly hilarious, the next deeply introspective, "BARE ESSENTIALS" mixes its story with spontaneous interplay between talented keyboardist Alizon Lissance, the audience, and current events. Giardella's work has been described a "theatrical jazz" where basic themes and structured progressions become the departure points for countless creative variations. She performs like a tight rope walker without a net, fearlessly making each evening an adventure - an intimate and electrifying experience that will never be the same from one night to the next!
For more information call 617.924.9596 or by email: daena@daenagiardella.com.
© 2000 Daena Giardella
Home | About | CD | Performances | Teaching | Voiceover | Consulting | Contact